Product form
The 100% additive-free protein made with 13 simple ingredients
Fuel your body with 21g of complete vegan protein from five powerhouse plants, plus prebiotic fiber to support digestion. Made with only real organic plant ingredients, this blend skips the bloat-causing gums, emulsifiers, "natural" flavors, erythritol and sugar alcohols.

Nutrition facts
Limited time offer: Get an additional 20% off your first subscription order with code: JOIN20
Why Subscribe?
Adjust frequency or cancel at anytime
30-Day Money-Back Guarantee
How to use

Mix a rounded 1/3 cup of powder with 10-12 oz. of plant-based milk, blend into your favorite smoothie, or use as a substitute for flour in your favorite baking recipe.
View full details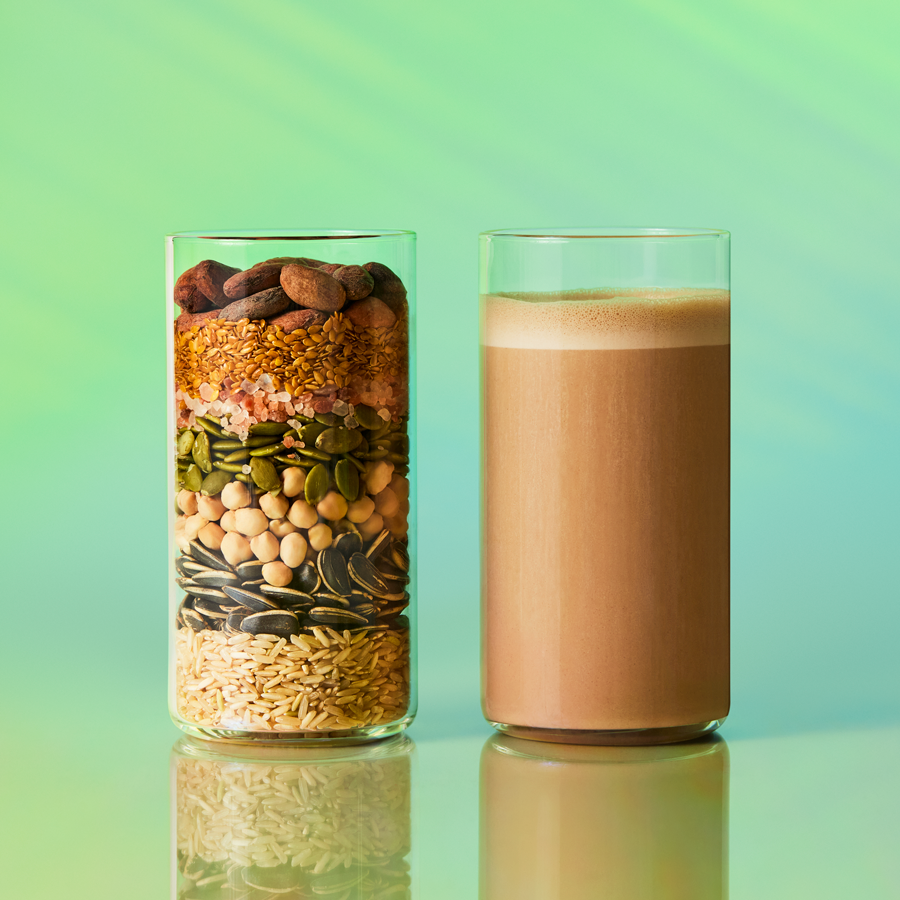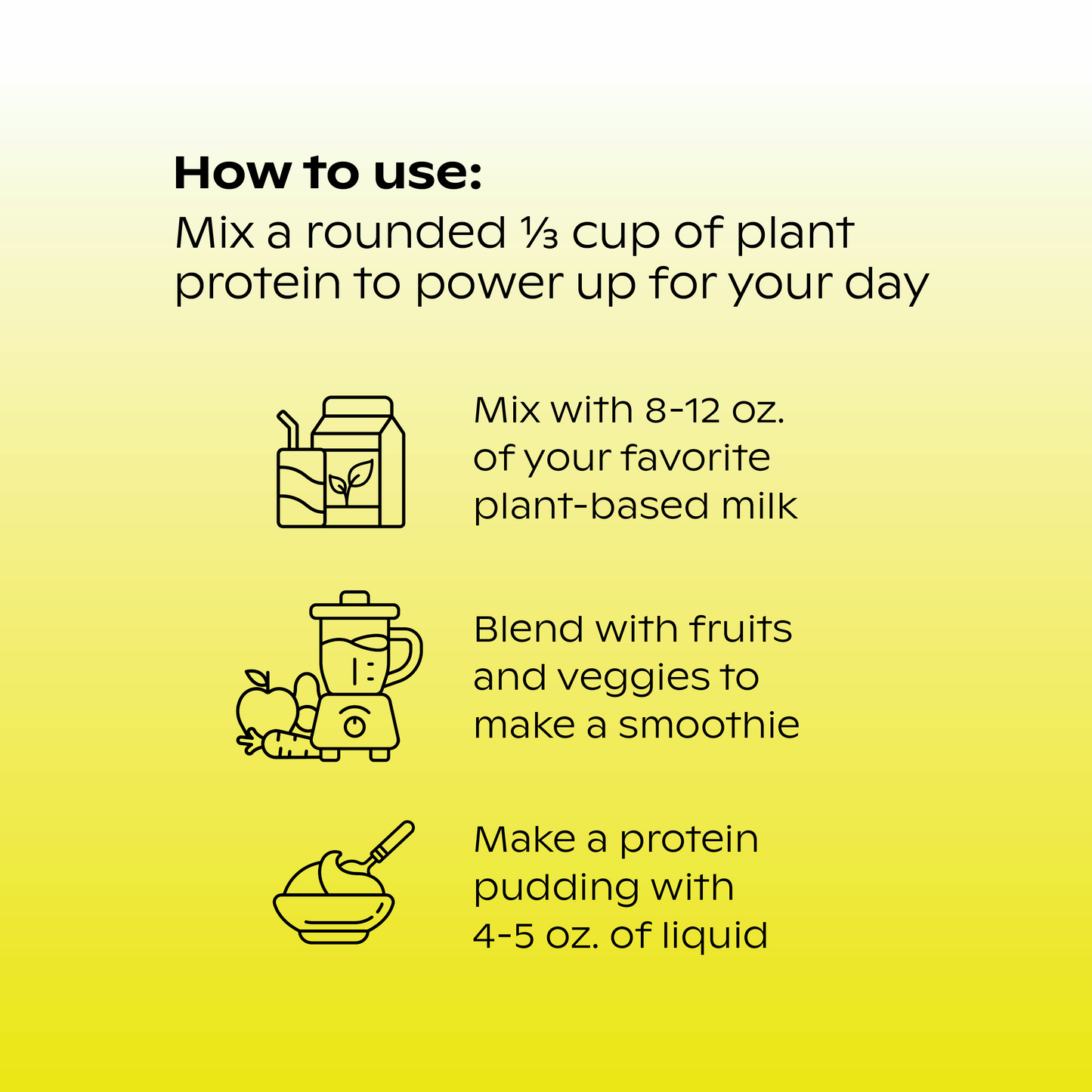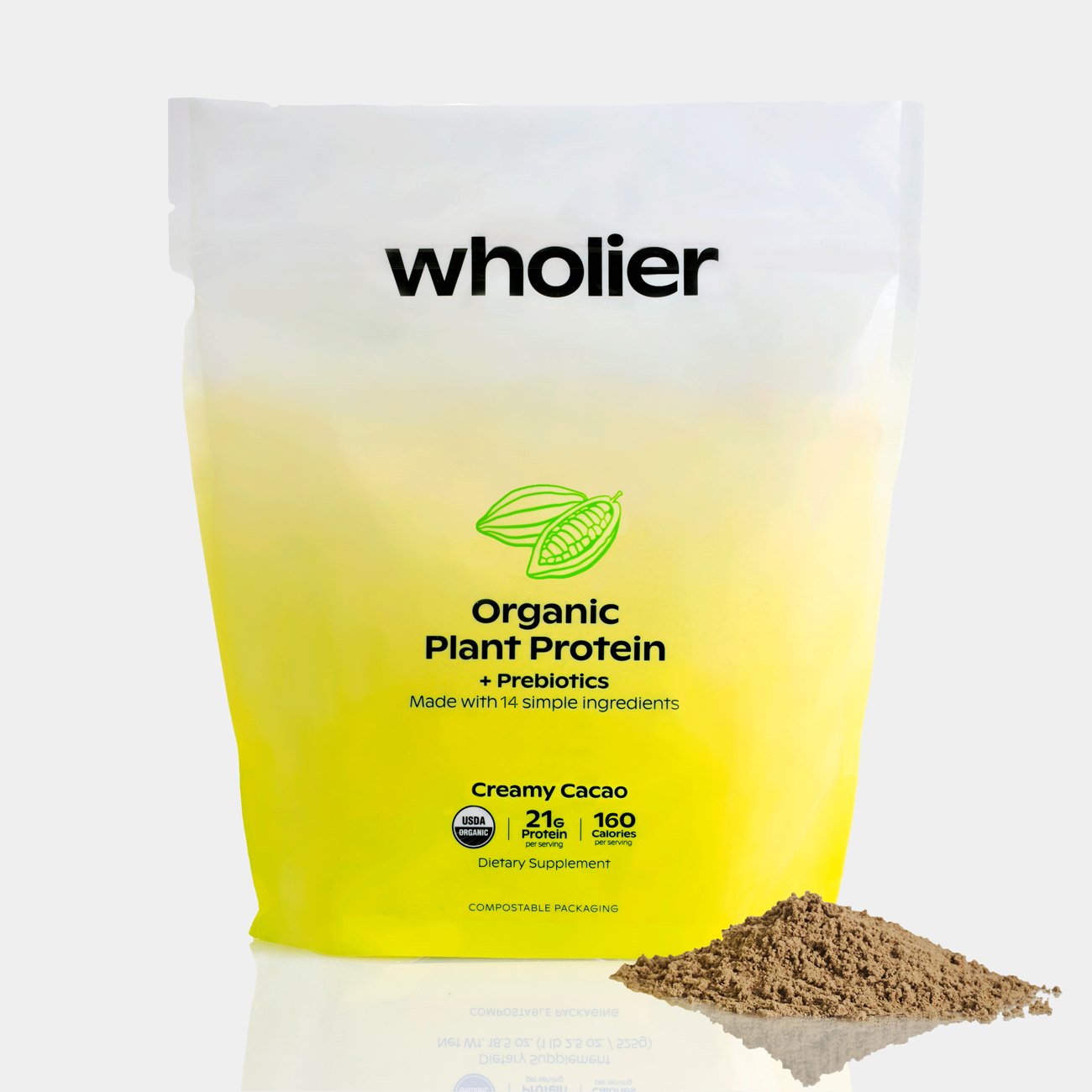 Plant Protein Supplement Facts
Incredible flavor, even better ingredients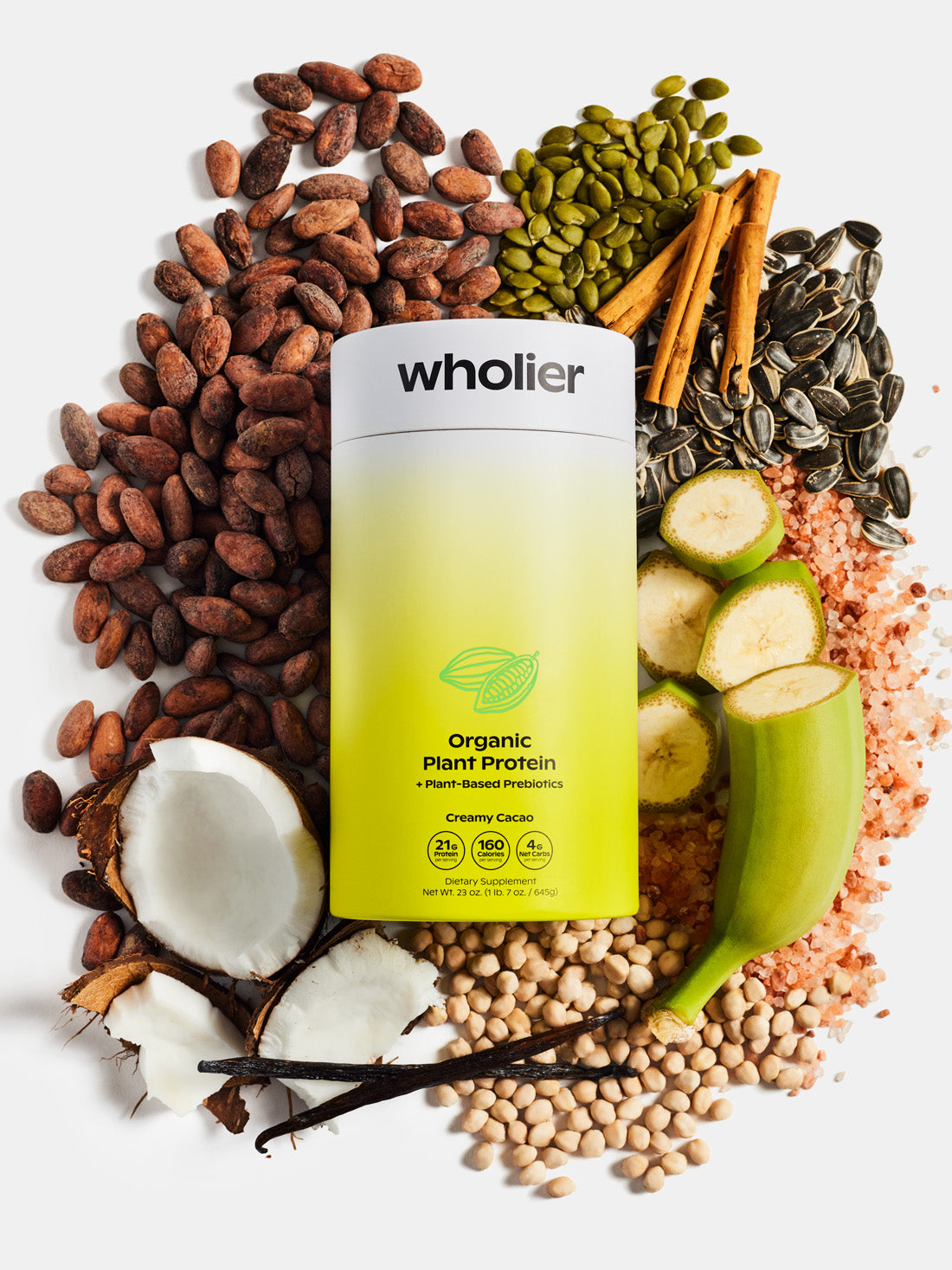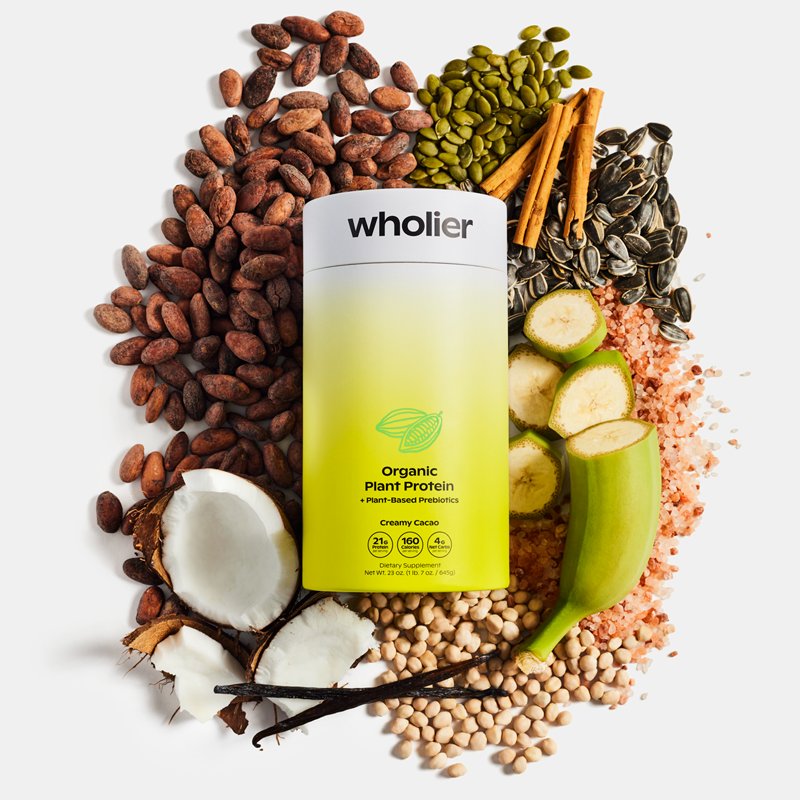 Drink up these plant-powered benefits
---
---
Clean, delicious plant protein without the nonsense
Real Ingredients,
No Additives

13-14 sustainably-sourced, organic ingredients you know without any questionable gums, fillers
or emulsifiers

Real Flavor,
from Plants

Flavored with real cacao and vanilla bean (no "natural flavors" here) and a touch of sweetness that's not overpowering

Delicious, Creamy
+ Mixable

Superior ingredients make this plant protein grit-free so you can enjoy it on it's own or blend with your favorite fruits and veggies
Plant Protein Supplement Facts
ORGANIC FLAXSEED PROTEIN

High in omega-3 fatty acids to reduce inflammation

ORGANIC YELLOW PEA PROTEIN

Rich in amino acids to build lean muscles

ORGANIC PUMPKIN SEED PROTEIN

Packed with micronutrients to reduce inflammation

ORGANIC BROWN RICE PROTEIN

Rich in amino acids to build lean muscles

ORGANIC SUNFLOWER SEED PROTEIN

Rich in fiber to promote satiety and digestion

ORGANIC GROUND PSYLLIUM HUSK

Rich in soluble fiber for for gut health and digestion

ORGANIC GREEN BANANA

Unique prebiotic benefits for gut health and digestion

ORGANIC COCONUT MILK

Contains medium-chain fatty acids for energy
Is Plant Protein a complete protein?

Organic Plant-Protein is a complete protein as it contains all nine essential amino acids that your body cannot produce on its own, plus non-essential amino acids. This includes 4g of BCAAs per serving (leucine, valine, and isoleucine). See the following Q&A for the typical amino acid profile.
What is the amino acid profile of Plant Protein?

A typical amino acid profile per serving of Organic Plant Protein can be found below. The protein blend contains all nine essential amino acids in balanced proportions along with non-essential amino acids.

9 Essential Amino Acids

Threonine - 787 mg
Valine - 1120 mg
Isoleucine - 941 mg
Phenylalanine - 1140 mg
Lysine - 999 mg
Histidine - 499 mg
Methionine - 407 mg
Leucine - 1710 mg
Tryptophan - 268 mg

Non-Essential Amino Acids

Aspartic Acid - 2150 mg
Serine - 1060 mg
Glutamic Acid - 3730 mg
Proline - 929 mg
Glycine - 956 mg
Alanine - 1040 mg
Tyrosine - 926 mg
Arginine - 1950 mg
Cystine - 329 mg
Collagen (Calculated from hydroxyproline) - 269 mg
Does plant protein contain any fillers, emulsifiers or artificial sweeteners?

Nope! Unlike other vegan protein powders on the market, our plant protein does not contain any "natural" flavors, fillers, emulsifiers, binding agents, artificial sweeteners or highly processed sugar substitutes. Many studies have found that these ingredients can negatively impact your gut health and are the most common reason why you feel bloated after consuming a protein powder.*
Does Plant Protein contain any allergens?

Plant Protein is certified organic, vegan, gluten-free, corn-free and soy-free. The formulation contains tree nuts (coconut milk).
Is Plant Protein certified organic?

Yes! Plant Protein is certified organic by Organic Certifiers.
Is Plant Protein cruelty-free and totally vegan?

Yes! All of our products are totally vegan and cruelty free. We do not do any animal testing on our ingredients.
Is Plant Protein third-party tested?

We take the quality of our supplements very seriously. Each batch of Plant Protein is third-party tested multiple times during the manufacturing process including the finished powder. These tests confirm three things: what's on the label is in the powder, the powder is safe based on toxicology reports, and there are no contaminants or undeclared ingredients in the powder. We test our supplements in agreement with GMP (Good Manufacturing Practices) to ensure strength, identity, purity, and composition of our products.
Is the packaging planet-friendly and plastic-free?

Plant Protein comes in paper tubes and certified compostable pouches. As a subscriber, you'll receive a paper tube on your first order and your refills will come in the compostable pouches.

The compostable pouches can be composted at an industrial facility or at home. Results may vary in an at-home compost. We recommend cutting the pouches up in small pieces and maintaining a favorable environment to breakdown the materials.
How does the subscription work?

By signing up for the subscription, we'll send you Plant Protein each month so you don't ever have to worry about running out. You can adjust delivery dates, change your frequency, skip orders or cancel your membership at anytime in your account or by emailing us at hello@livewholier.com. Your happiness is our guarantee!
What is the 30-Day money-back guarantee?

We're confident our products will help you feel your best, or your money back. You have 30 days from when your full-sized product is delivered to try it and request a refund if you don't end up loving it. No questions asked! This guarantee applies whether you're a new customer making your first purchase or an existing customer trying out a new product.

This guarantee covers the full cost of the product, any applicable taxes, and the initial shipping cost (not including return shipping, if applicable). Learn More