Product form
Real ingredients from nature for better sleep, relaxation and digestion
Get better rest naturally with the delicious nighttime drink made with two powerful forms of magnesium and chelated calcium, plus tart cherry juice and organic superfood berries. 
Eco-friendly paper tubes and compostable refills. 
Why Subscribe?
Ships every 30, 45 or 60 days
30-Day Money-Back Guarantee
Supplement facts
How to use

Mix about one tablespoon of powder with 6-8 oz. of warm for a larger drink or 1-2 oz. for a nightcap shot. For optimal results, drink 1-2 hours before bed every night.
View full details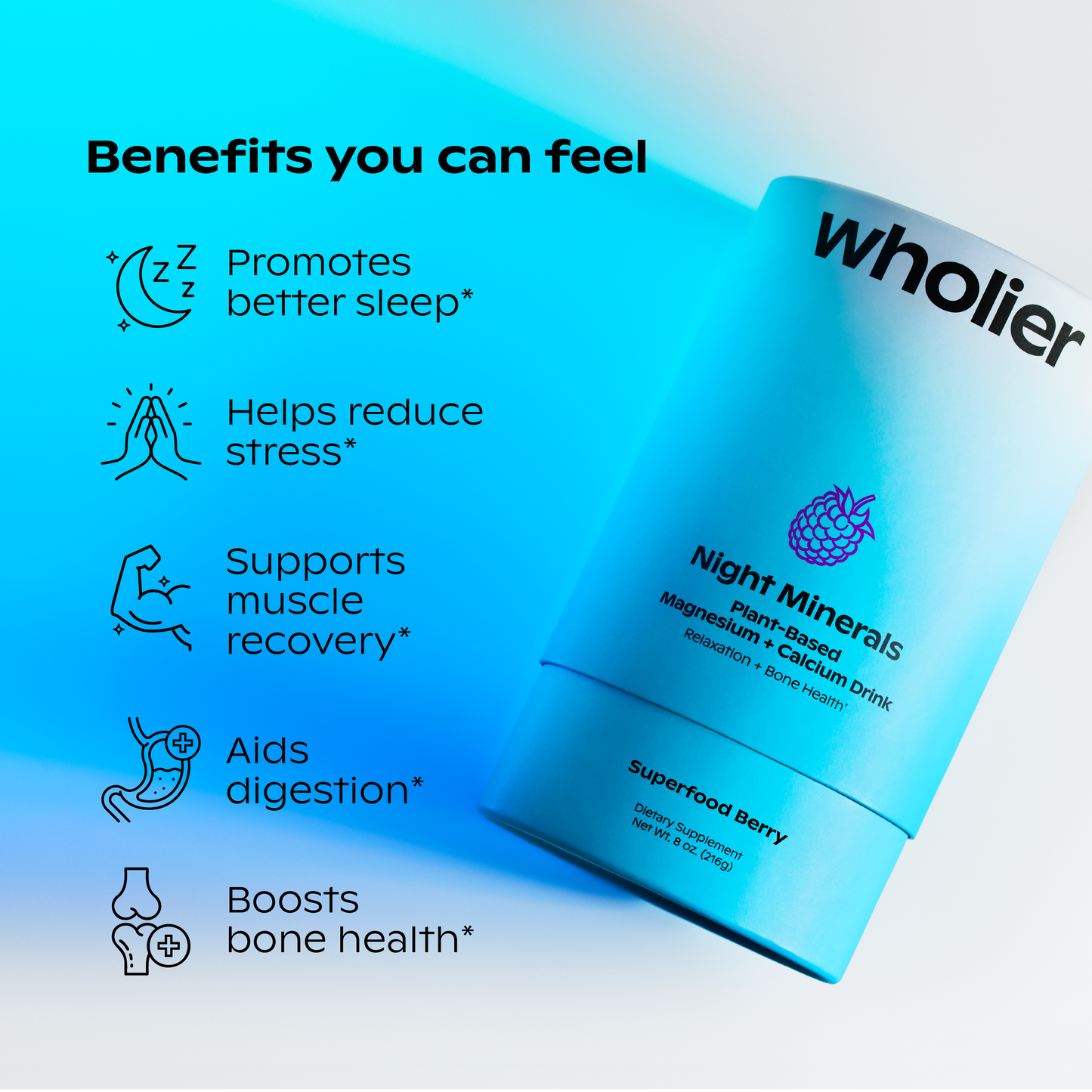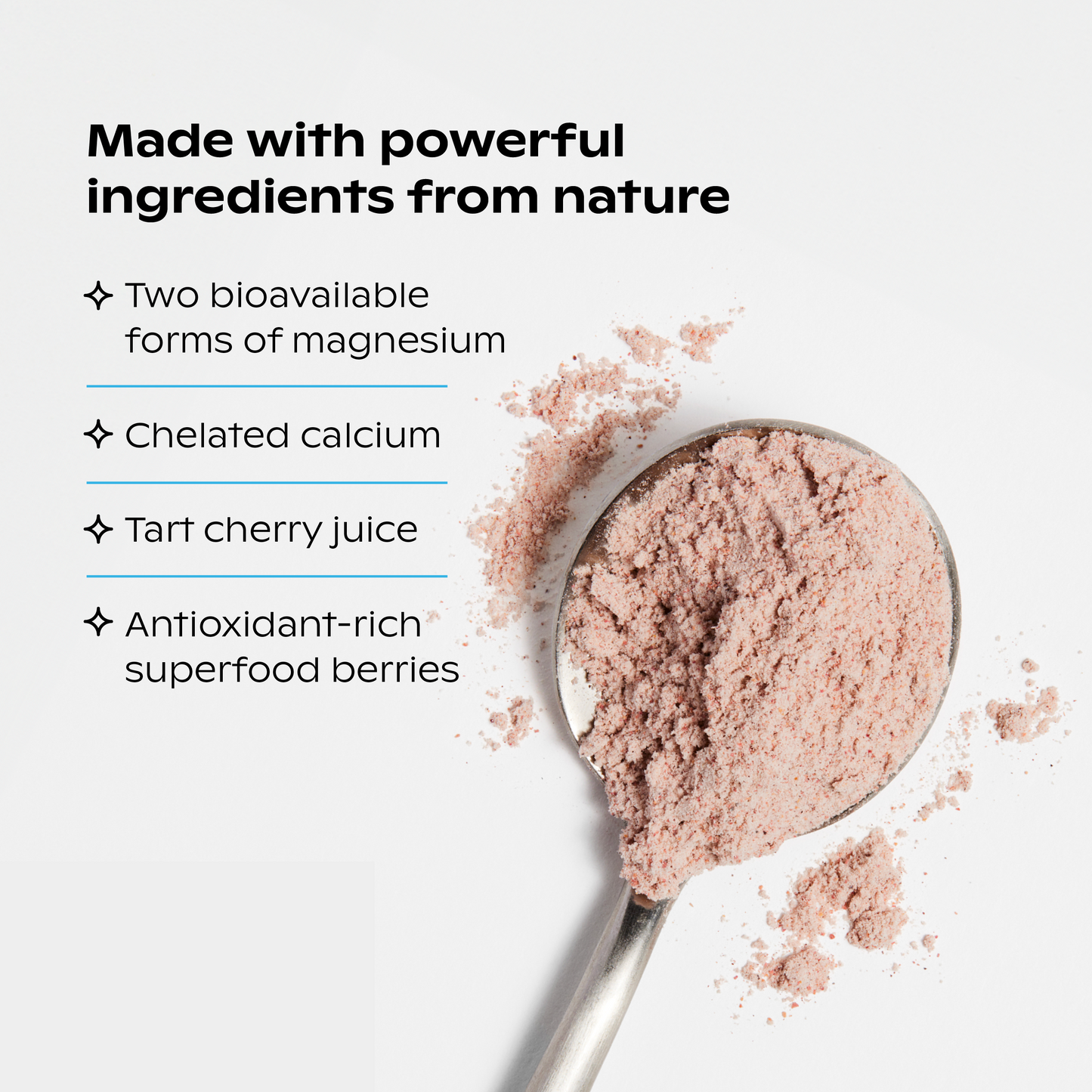 Relax and unwind, naturally
Real ingredients, real benefits
---
---
---
Better sleep with help from mother nature
MADE WITH ORGANIC FRUIT

Made with only real superfood berries, not "natural flavors."

MINERALS FROM THE SEA

Magnesium and calcium sustainably extracted from seawater and marine plants.

NO ADDED SUGAR

Sweetened with a pure monk fruit and stevia blend - no sugar alcohols here!
Powerful nutrition starts at the source
MAGNESIUM

Magnesium glycinate and citrate from seawater

SUPERFOOD BERRIES

Superfood berries and tart cherry juice
Do Night Minerals make you groggy?

No! Unlike other sleep supplements, including melatonin, minerals do not leave you feeling groggy or give you the next day "hangover" that is typically experienced with these supplements.
Can I drink Night Minerals as a shot instead of a full glass of water

Yes! Our new formulation of Night Minerals completely dissolves in water. If you don't like drinking liquids close to your bedtime, you can mix 1 Tablespoon of powder with 3-4 Tablespoons of warm or room temp water (about 1.5-2 ounces). This makes Night Minerals into a quick nighttime shot and you'll still reap all of the benefits.
Why did you formulate Night Minerals without "natural flavors"?

As a brand built on transparency, we don't use natural flavors in any of our products. Instead, we use real food to flavor our nutritional supplements like real organic blackberries. Why? Because despite what their name suggestions, natural flavors are not very "natural" at all.

Flavors, as defined by the FDA, are oils, resins and other extractions derived from plant or animal sources (called "natural") or man-made compounds ("artificial") that are synthesized in a lab. In other words, the term "natural" refers to where the distilled flavors are extracted from, but it stops there. That term doesn't take into consideration the wide range of compounds that can then be added, like very non-natural sounding chemicals methyl cyclopentenolone, diacetyl, methyl methoxy pyrazine, and benzaldehyde, plus emulsifiers, solvents, and preservatives. Many times a single natural flavor can contain hundreds of compounds.
Are Night Minerals cruelty-free and totally vegan?

Yes! All of our products are totally vegan and cruelty free. We do not do any animal testing on our ingredients.
Are Night Minerals third-party tested?

We take the quality of our supplements very seriously. Each batch of Night Minerals is third-party tested multiple times during the manufacturing process including the finished powder. These tests confirm three things: what's on the label is in the powder, the powder is safe based on toxicology reports, and there are no contaminants or undeclared ingredients in the powder. We test our supplements in agreement with GMP (Good Manufacturing Practices) to ensure strength, identity, purity, and composition of our products.
Are Night Minerals non-GMO and allergen-free?

Night Minerals is non-GMO, gluten-free, nut-free, soy-free and carrageenan-free. Night Minerals is also free of both natural and artificial flavors. Unlike other supplement drinks, we only use real, organic berries.
Is the packaging plastic-free and recyclable?

Night Minerals comes in a plastic-free, food-grade paper tube and compostable refill pouches. Our boxes are made with recycled materials and water-based inks.
How does the subscription work?

By signing up for the subscription, we'll send you a 30-day supply of Night Minerals each month so you don't ever have to worry about running out. You can adjust delivery dates, change your frequency, skip orders or cancel your plan at anytime in your account or by emailing us at hello@livewholier.com. Your happiness is our guarantee!
What is the 30-day money-back guarantee?

We're confident our products will help you feel your best, or your money back. You have 30 days from when your full-sized product is delivered to try it and request a refund if you don't end up loving it. No questions asked! This guarantee applies whether you're a new customer making your first purchase or an existing customer trying out a new product.

This guarantee covers the full cost of the product, any applicable taxes, and the initial shipping cost (not including return shipping, if applicable). Learn More