Product form
Formulated with the essential nutrients that are harder to come by in a vegan, vegetarian or plant-forward diet
The science-backed, vegan multivitamin made with food-based vitamins, minerals and omega-3s and designed to fill in the nutrient gaps for plant-based people. Each daily dose is infused with a delicious citrus taste.
Eco-friendly glass bottle and compostable refills (30-servings each).
Supplement facts
Limited time offer: Get an additional 20% off your first subscription order with code: JOIN20
Why Subscribe?
Adjust frequency or cancel at anytime
30-Day Money-Back Guarantee
How to use

Take two capsules together, once a day at anytime, with or without food.
View full details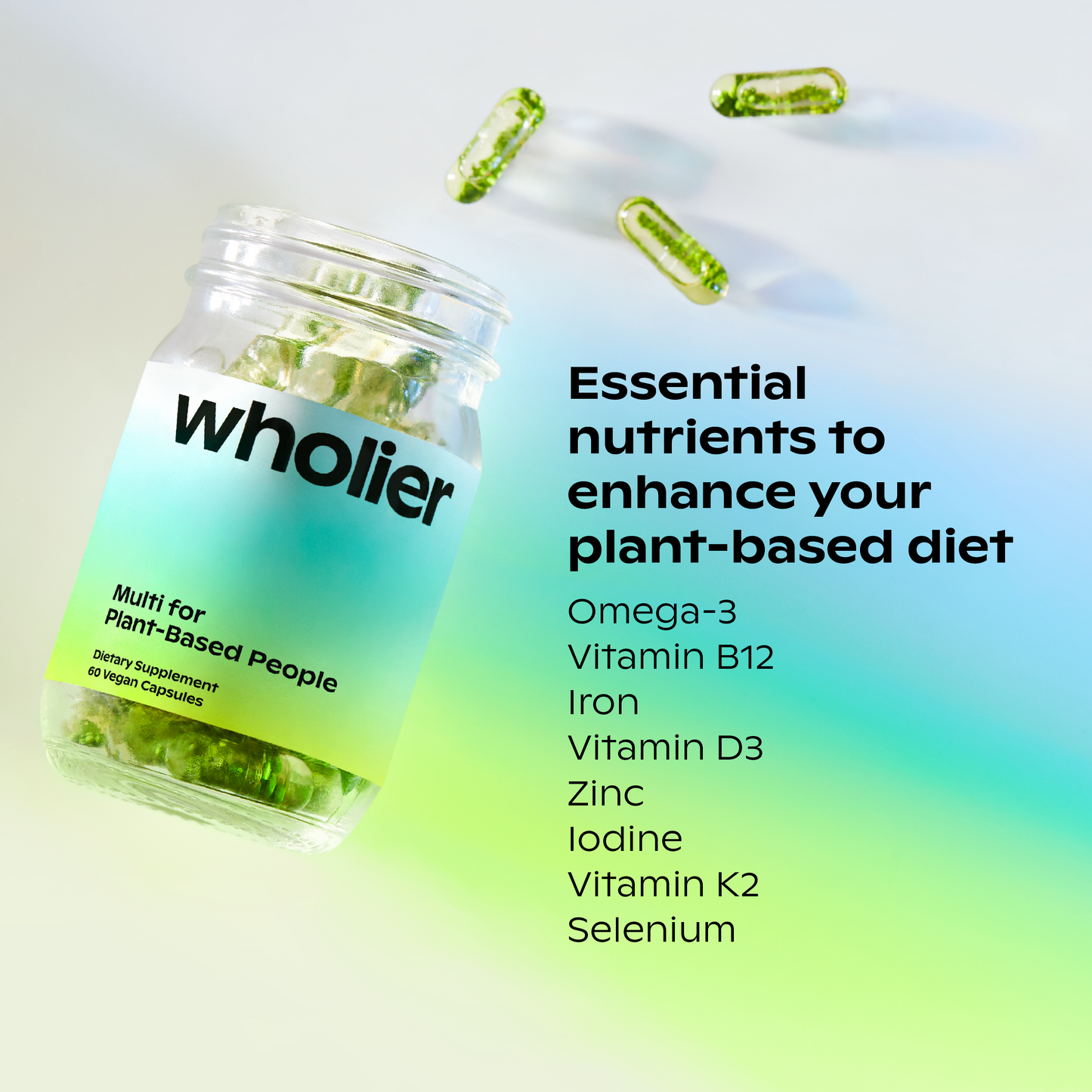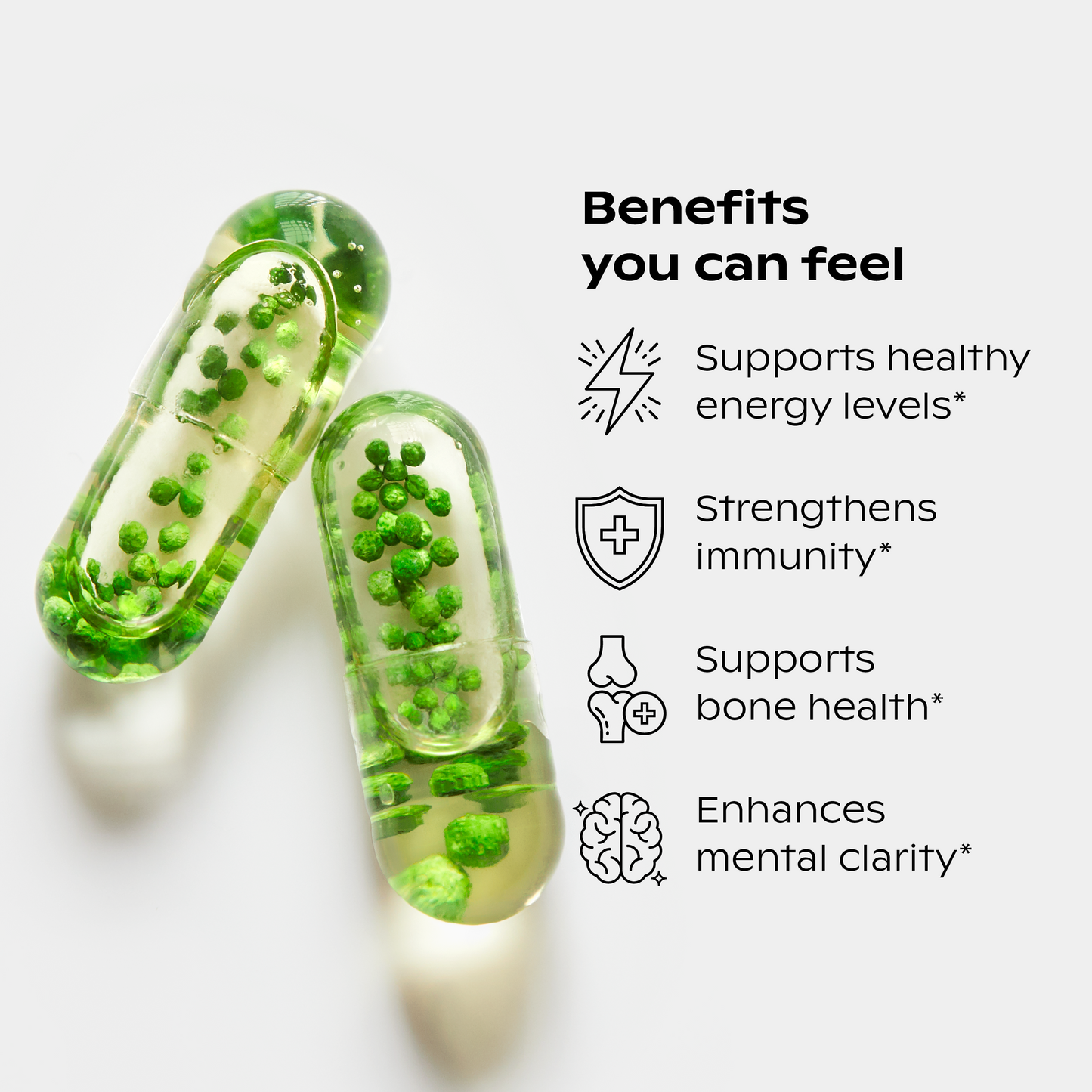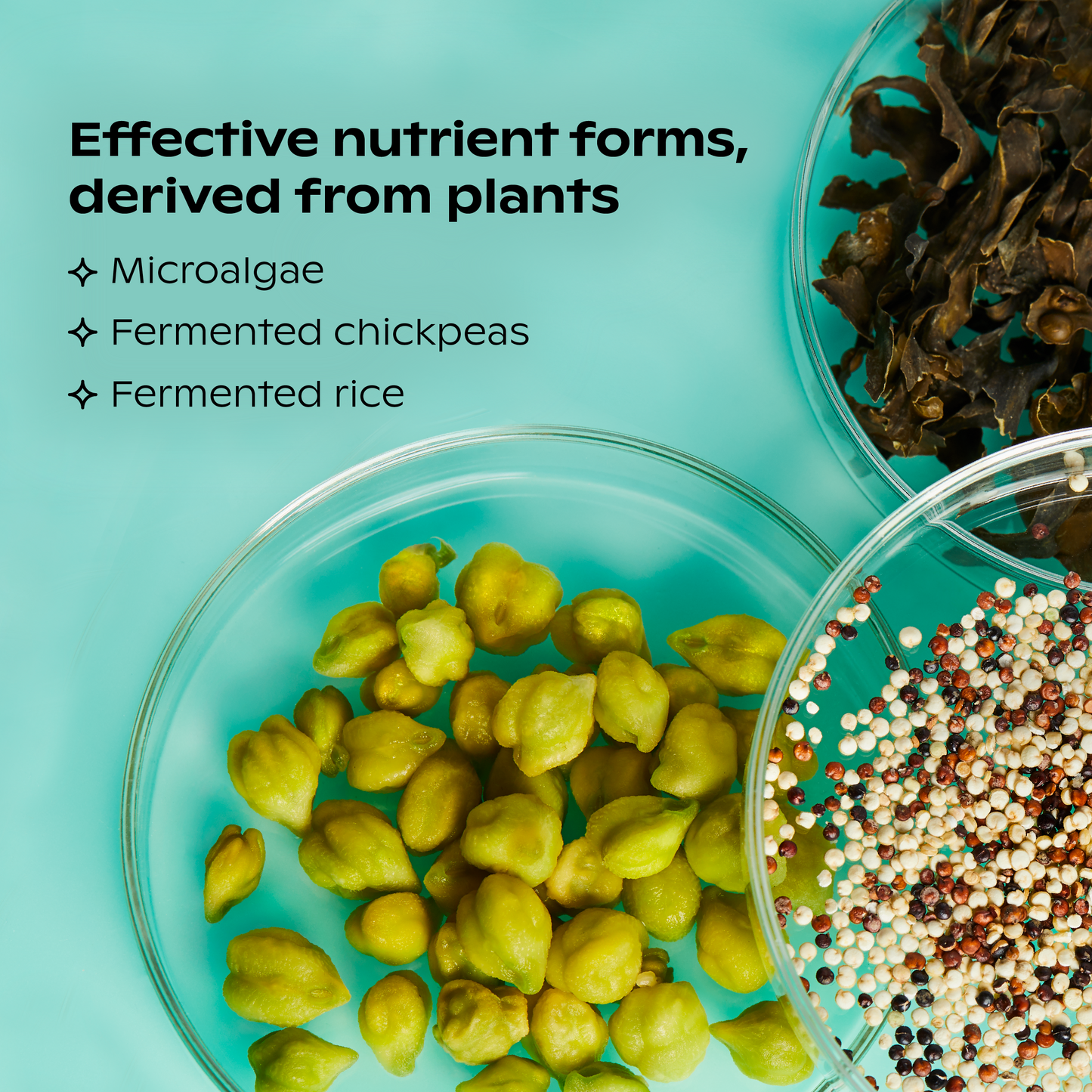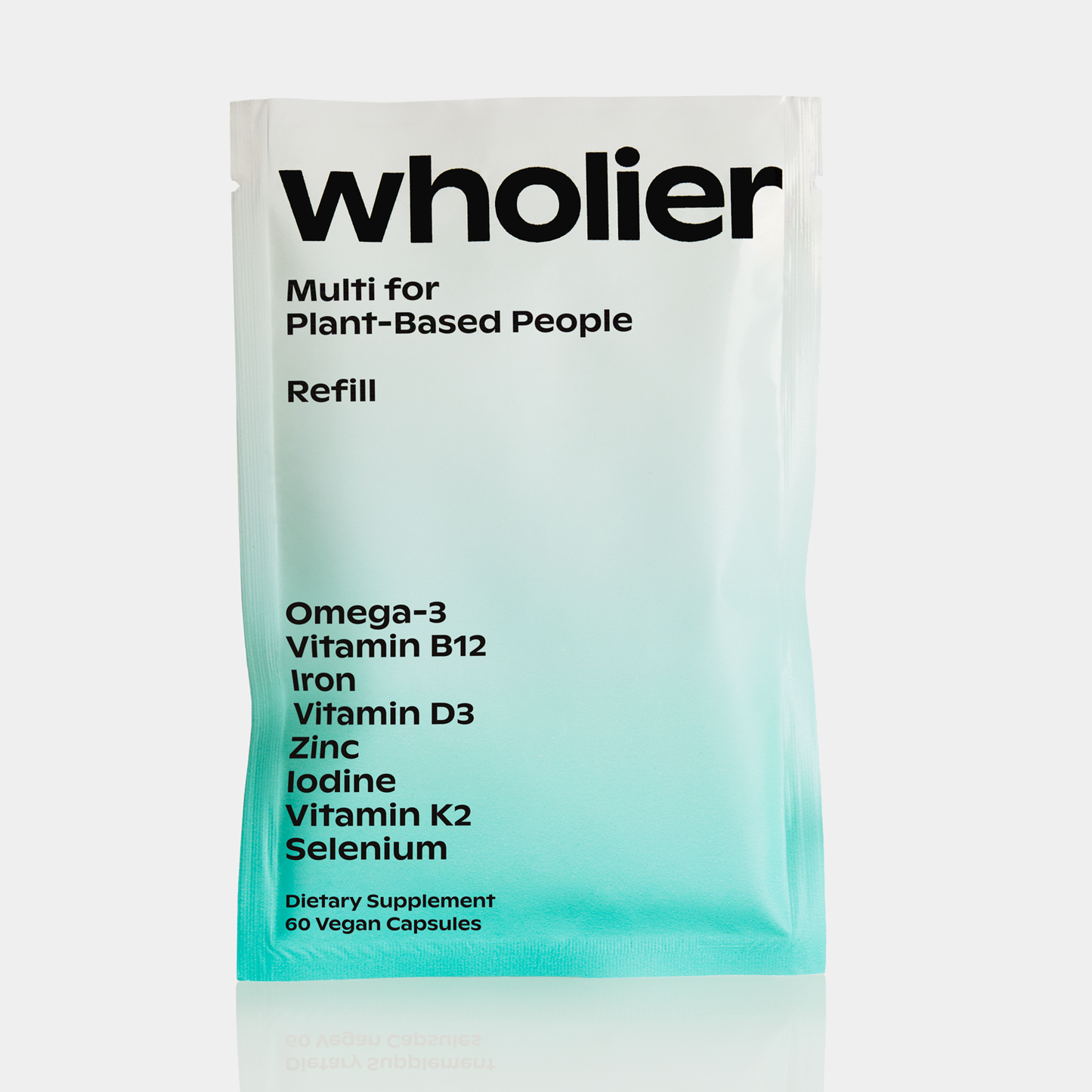 Multi for Plant-Based People Supplement Facts
Gluten-Free,
Soy-Free +
Corn Free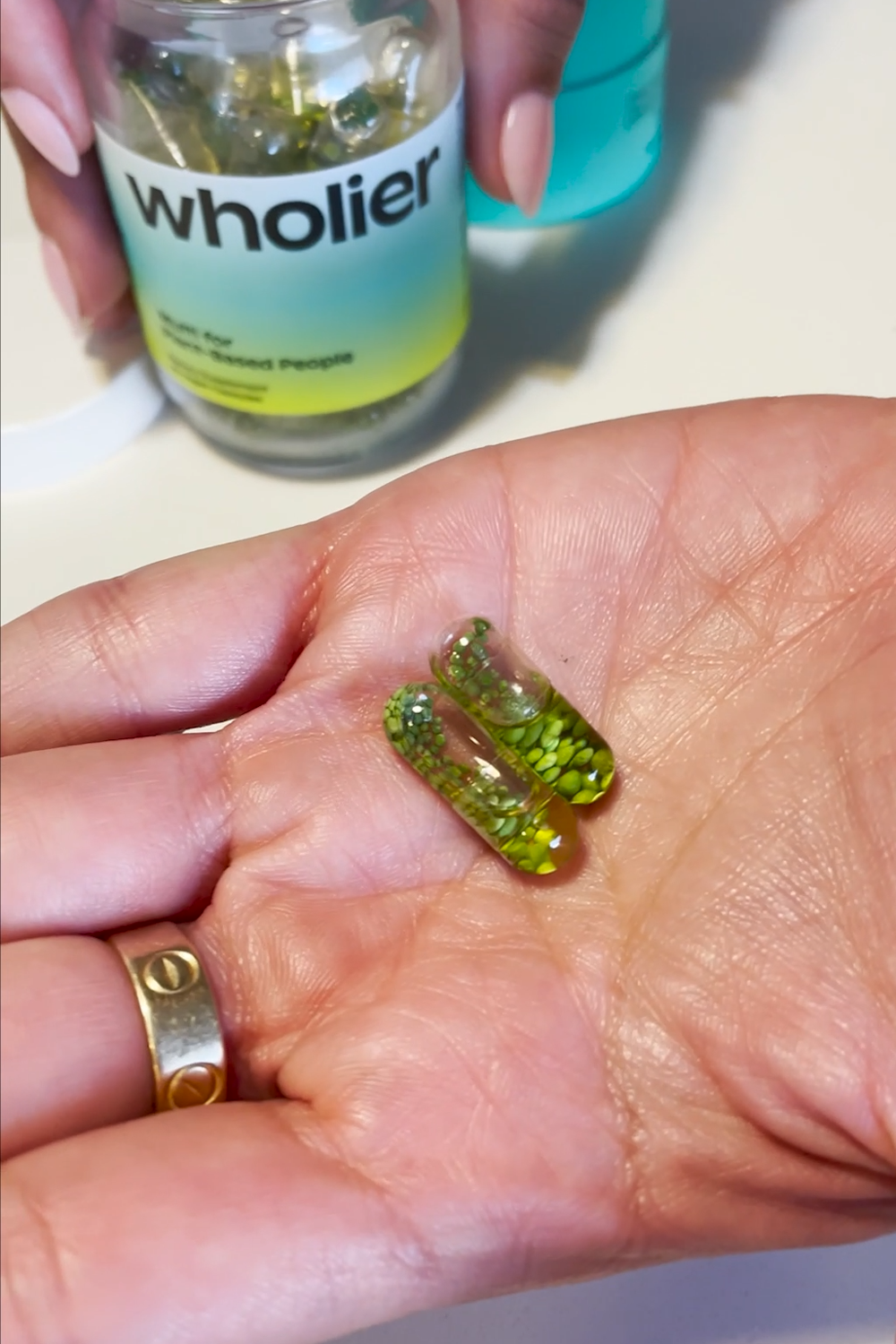 A daily habit with benefits you can feel
---
---
---
Clean ingredients, delicious citrus taste
Food-Based
Nutrients

Formulated with plant-derived nutrients in active, bioavailable forms

No Nausea
Capsule

Enhanced absorption and no queasiness, even on an empty stomach

Delicious
Citrus Taste

Infused with citrus extract to make taking your daily dose a refreshing experience

Glass Bottles +
Compostable Refills

Eco-friendly packaging that's convenient for you and better for the planet
Multi for Plant-Based People Supplement Facts
OMEGA - 3

DHA + EPA from fermented microalgae

VITAMIN K2

Non-soy MK-7 from fermented chickpeas

IRON

From fermented Koji rice + bisglycinate

VITAMIN D3

Cholecalciferol from microalgae

SELENIUM

Selenomethionine from gluten-free yeast
How does the refill system work?

You'll receive a forever glass bottle on your first order and your refills will come in compostable packs. This helps save up to 60% on waste and reduces shipping-related carbon emissions.
How did you choose the ingredients in the Multi?

With the help of medical and nutrition experts, we combed through hundreds of clinical studies on the vegan and vegetarian population to figure out the right mix of vitamins and minerals to support a plant-based or mostly plant-based diet.
Can I take the Multi if I'm not fully vegan or vegetarian?

The Multi is formulated for vegans, vegetarians and those who have a predominantly plant-based diet. However, omnivores can also benefit from the nutrients in the Multi. We formulated it to include clean, plant-based nutrients that can support most diets.
Is the Multi cruelty-free and totally vegan?

All of our supplements are vegan and there is no animal testing done in the production of our products or the ingredients we use.
Is the Multi third-party tested?

We take the quality of our multivitamin very seriously. Each batch of the Multi is third-party tested multiple times during the manufacturing process including the finished capsules. These tests confirm three things: what's on the label is in the capsules, the capsules are safe based on toxicology reports, and there are no contaminants or undeclared ingredients in the capsules. We test our multivitamin in agreement with GMP (Good Manufacturing Practices) to ensure strength, identity, purity, and composition of the capsules.
Is the Multi non-GMO and allergen-free?

The Multi is non-GMO, gluten-free, nut-free, soy-free and carrageenan-free. The citrus aroma insert is made with orange, lemon and bergamot.
How does the subscription work?

By signing up for the subscription, we'll send you a 30-day supply of multivitamins each month so you don't ever have to worry about running out. You can adjust delivery dates, change your frequency, skip orders or cancel your membership at anytime in your account or by emailing us at hello@livewholier.com. Your happiness is our guarantee!
What is the 30-Day money-back guarantee?

We're confident our products will help you feel your best, or your money back. You have 30 days from when your full-sized product is delivered to try it and request a refund if you don't end up loving it. No questions asked! This guarantee applies whether you're a new customer making your first purchase or an existing customer trying out a new product.

This guarantee covers the full cost of the product, any applicable taxes, and the initial shipping cost (not including return shipping, if applicable). Learn More