Science-backed + consciously sourced
We're intentional about the vitamins, minerals, and food-based ingredients we use. Learn about their sources and benefits.
Nooch Nutritional Yeast with Prebiotics + Probiotics
Nutrient-packed, cheezy seasoning
Nutritional Yeast

Benefits

Muscle Health*
Hair, Nail, Skin Health*
Immune Support*

Crafted with Intention

Protein powerhouse. Nutritional yeast is one of few plant-based foods containing all nine essential amino acids, making it a complete protein.
Beauty booster. Nutritional yeast is naturally packed with B vitamins that support hair, skin and nail health.
Enhance your immunity. The flakes contain immunity-boosting beta-glucans and antioxidants.

Source

Nutritional yeast fermented on beet molasses
Produced in Canada

Scientific Research

Hassan S, Poulos C, Bhatti J, et al. Saccharomyces cerevisiae as a skin physiology, pathology, and treatment model. Dermatol Online J. 2020;26(11):13030/qt2pb634zd. Published 2020 Nov 15.
Prebiotics

Benefits

Immune Support*
Digestive Health*

Crafted with Intention

Boost your immunity. These organic medicinal mushrooms are rich in antioxidants and beta-glucans and have a number of clinical studies supporting their immunity-boosting benefits.
Feed your gut. The prebiotic properties of these mushrooms promote the increase of the friendly bacteria in your gut while also supporting digestion.

Source

Organic reishi, maitake and oyster mushroom
Produced in USA

Scientific Research

Mallard B, Leach DN, Wohlmuth H, Tiralongo J. Synergistic immuno-modulatory activity in human macrophages of a medicinal mushroom formulation consisting of Reishi, Shiitake and Maitake. PLoS One. 2019;14(11):e0224740. Published 2019 Nov 7. doi:10.1371/journal.pone.0224740.
Probiotics

Benefits

Digestive Health*
Gut Health*
Anti-bloat*

Crafted with Intention

Inner Strength. Lactobacillus strains are important members of your gut microbiome. They help protect against disease and help stop pathogens from colonizing your gut.
Fight gut inflammation. The anti-inflammatory properties of these probiotic strains help combat gut inflammation i.e. fight bloating.
Keep it going. These strains help promote digestion by breaking down food in your stomach.
Protect against candida. Saccharomyces boulardii has been shown to inhibit populations of candida and deter them from establishing in the intestines.

Source

Lactobacillus rhamnosus, lactobacillus helveticus and saccharomyces boulardii
Produced in USA

Scientific Research

Vitellio P, Celano G, Bonfrate L, Gobbetti M, Portincasa P, De Angelis M. Effects of Bifidobacterium longum and Lactobacillus rhamnosus on Gut Microbiota in Patients with Lactose Intolerance and Persisting Functional Gastrointestinal Symptoms: A Randomised, Double-Blind, Cross-Over Study. Nutrients. 2019;11(4):886. Published 2019 Apr 19. doi:10.3390/nu11040886.
Vitamin B12

Benefits

Energy Support*
Supports Brain Function*
Boosts Metabolism*

Crafted with Intention

Healthy energy levels. B12 is essential for your brain and nervous system to function normally.*
Strengthen your inner workings. B12 is involved in the formation of red blood cells and helps to create and regulate DNA.*

Our Difference

Nooch is the first and only nutritional yeast fortified with vitamin B12 in the naturally-occurring, bioavailable form of methylcobalamin, while other brands use cyanocobalamin, the synthetic form of this nutrient.

Source

Methylcobalamin from deactivated, gluten-free yeast
Produced in the USA

Paul C, Brady DM. Comparative Bioavailability and Utilization of Particular Forms of B12 Supplements With Potential to Mitigate B12-related Genetic Polymorphisms. Integr Med (Encinitas). 2017;16(1):42-49.
Vitamin D3

Benefits

Immune Support*
Supports Brain Function*
Bone Health*

Crafted with Intention

Strengthen your bones. Vitamin D helps the body absorb and retain calcium and phosphorus, which are vital for maintaining healthy bones.*
Boost your immunity. Vitamin D increases antimicrobial peptides, which function as a natural antibiotic, and guards against organisms that cause disease.*

Our Difference

The most common form of vegan vitamin D is vitamin D2, which is found in plants. However, vitamin D3 - typically derived from sheep's wool - has been shown to be over 80% more effective at raising serum levels than D2. In our Nooch, we use a vegan vitamin D3 that is harvested from microalgae (but don't worry, you can't taste it.)

Source

Cholecalciferol from fermented microalgae
Produced in England

Scientific Research

Heaney RP, Recker RR, Grote J, Horst RL, Armas LA. Vitamin D(3) is more potent than vitamin D(2) in humans. J Clin Endocrinol Metab. 2011;96(3):E447-E452. doi:10.1210/jc.2010-2230.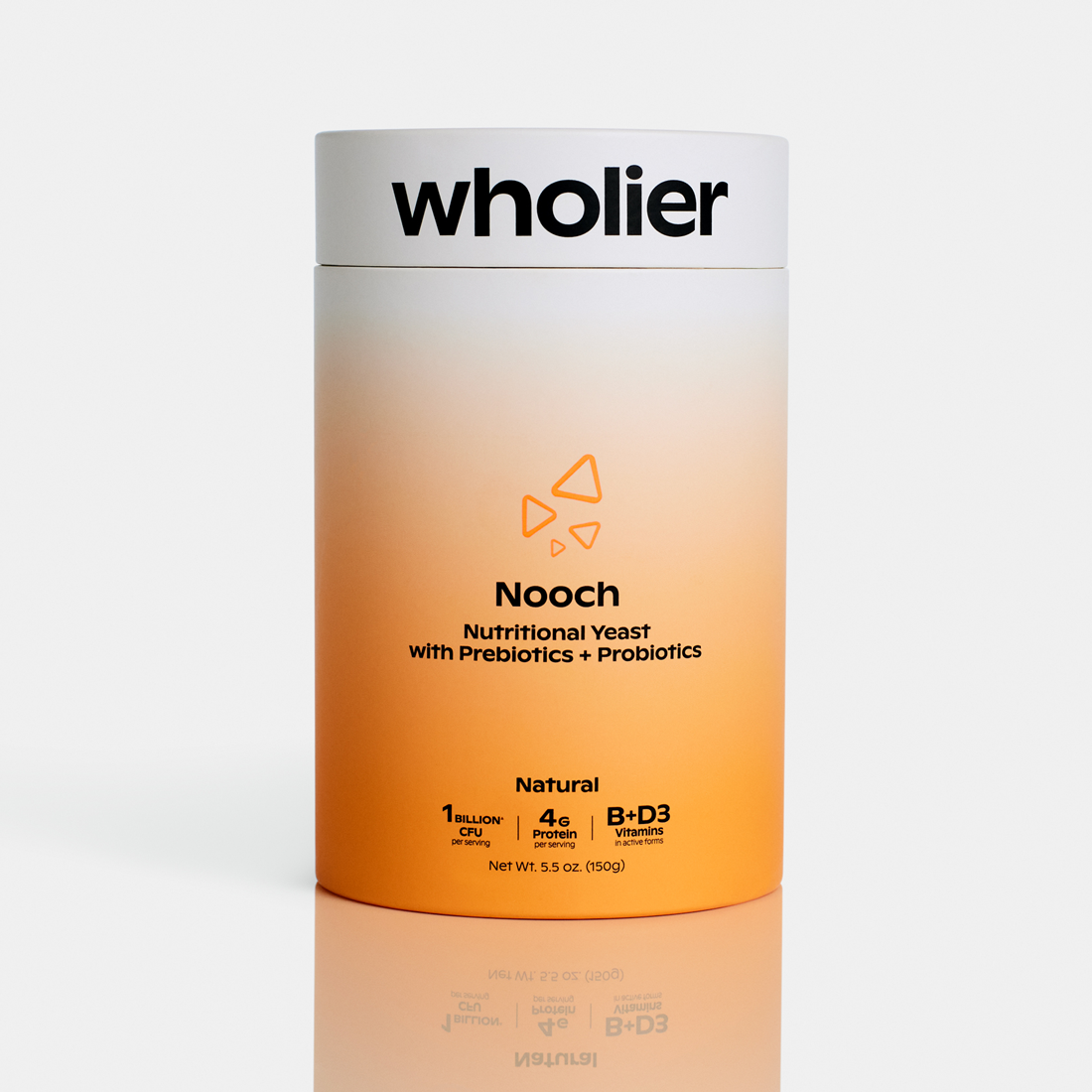 Nooch with Prebiotics + Probiotics
Regular price
Sale price
$18.00
Unit price
per
Sale
Sold out
Share
View full details