Product form
The first nutritional yeast flakes formulated with prebiotics and probiotics. Nooch is naturally packed with protein, contains vegan vitamin D3 and has B vitamins including the active form of B12. The Sweet Cayenne is a fiery and smokey spice blend that packs a flavorful punch to any savory dish.
Why Subscribe?
Ships every 30, 45 or 60 days
30-Day Money-Back Guarantee
How to use

The serving size is 2 Tablespoons (10 grams). Nooch is endlessly versatile and can be added to any savory dish including salads, veggies, pasta, popcorn, sauces and more. For Sweet Cayenne, shake the paper tube before use to ensure the spices are evenly distributed with the flakes.
Nutrition facts
View full details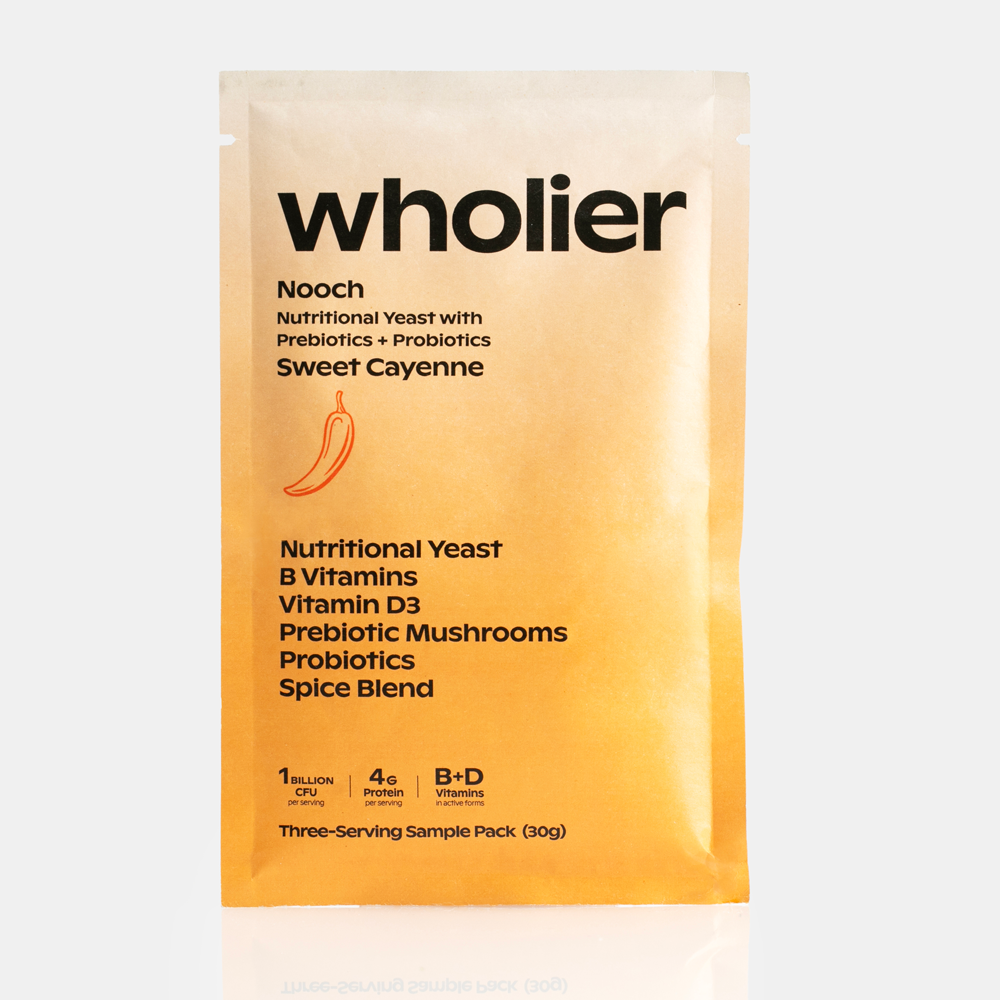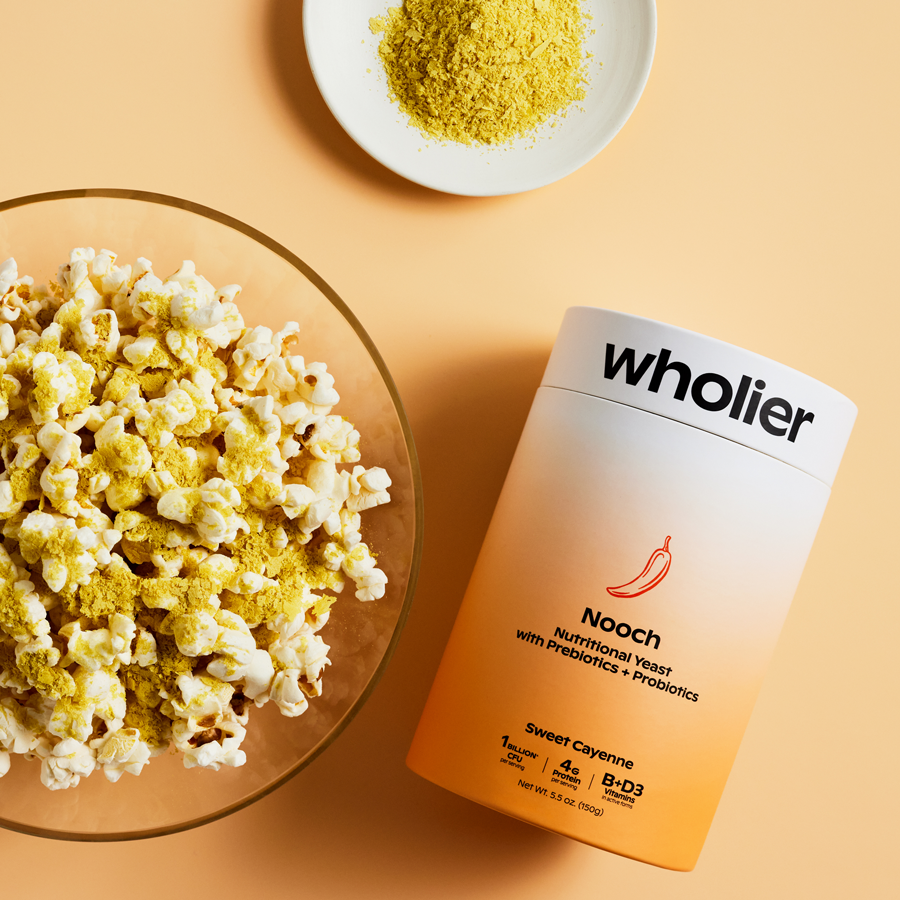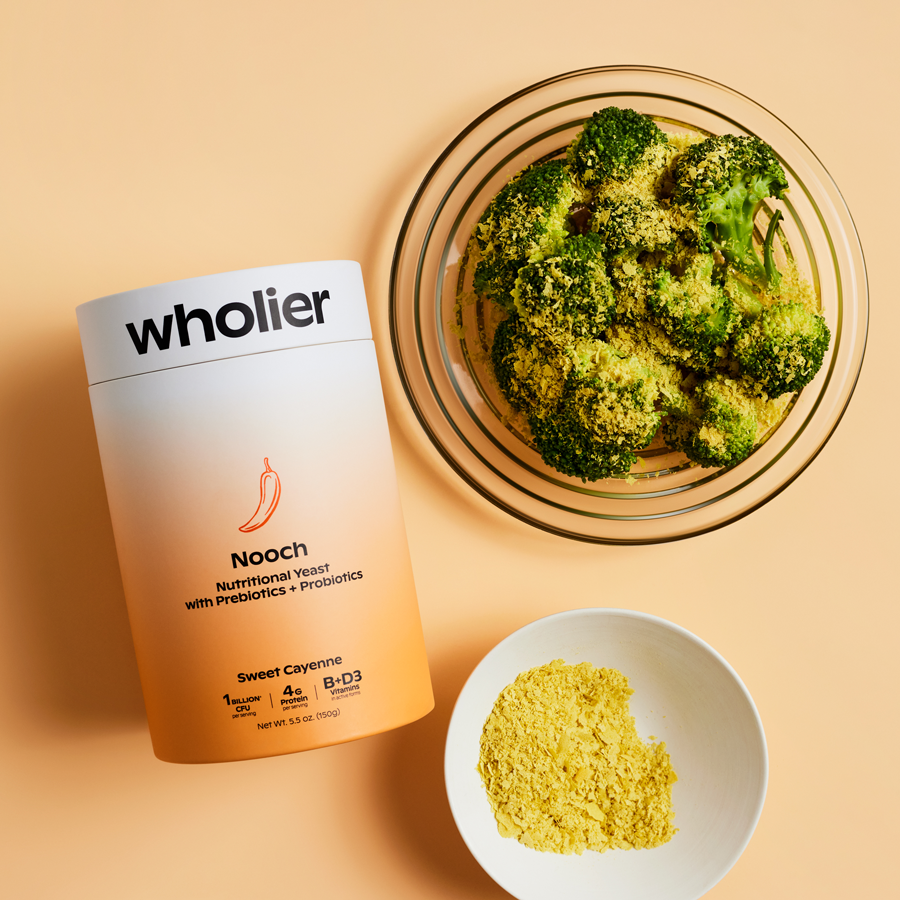 A cheezy plant-based staple, reimagined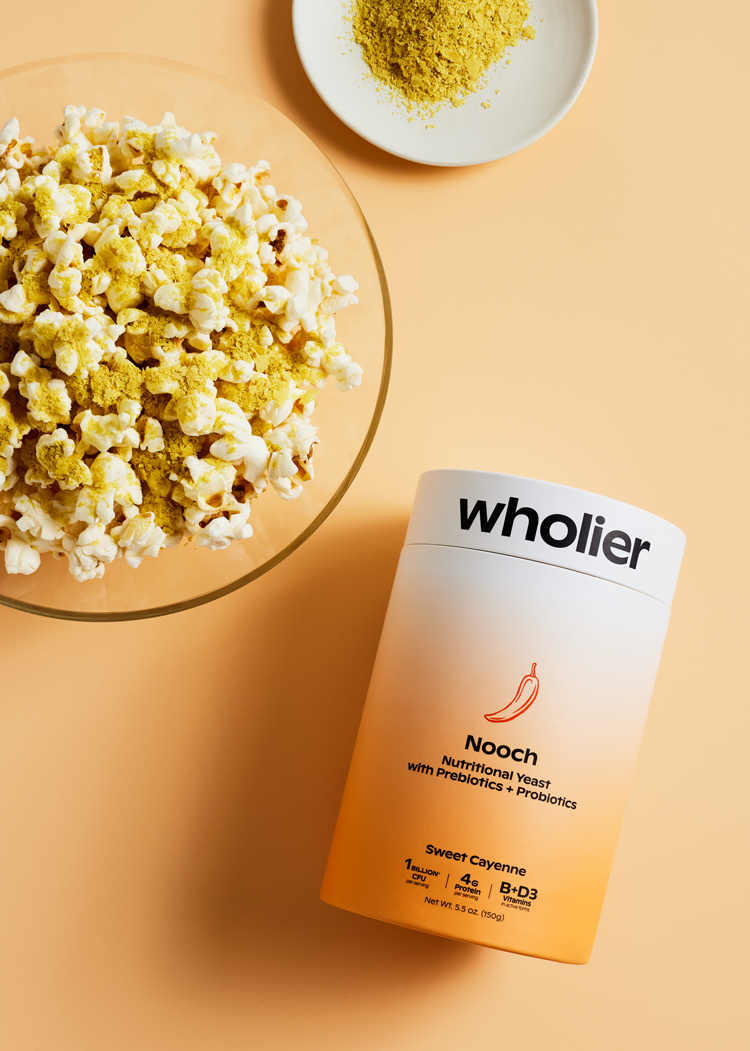 Craveworthy flavor and health benefits
---
---
---
---
Sprinkle, shake, mix, stir...
SPRINKLE ON VEGGIES

From salads to roasted vegetables, a little sprinkle of Nooch can jazz up any of your favorite veggie dishes.

CREATE CHEEZY SAUCES

Add cheezy flavor and gut health-supporting nutrients to savory sauces and dips.

MIX WITH PASTA OR RICE 

Give your pasta and rice dishes a delicious umami flavor (without the cheese).
Powerful nutrition starts at the source
Nutirional Yeast

Cheezy taste, complete protein and B complex

Prebiotics

Organic reishi, maitake and oyster mushrooms

Probiotics

Three powerful strains of probiotics

Vitamin D3

Cholecalciferol from microalgae

Sweet Cayenne Spices

Spice blend in the Sweet Cayenne flavor
What is nutritional yeast?

Nutritional yeast is a strain of Saccharomyces cerevisiae - a kind of deactivated yeast, rather than the active yeast used for bread or the pesky fungii that we try to avoid having in our body. The yeast is cultured on cane sugar or beet molasses (we use beet molasses). Nutritional yeast is a wonderful seasoning because it's naturally backed with B vitamins and it has a delicious cheezy flavor, without the cheese! Plus it's one of few plant-based foods that has all nine essential amino acids, making it a complete protein.
What does nutritional yeast taste like?

Nutritional yeast has a cheesy, umami, nutty flavor that's similar to parmesan cheese. Our Sweet Cayenne Nooch has a cheezy taste with a spicy, smoky southwestern flair.
Are the nutrients impacted during cooking?

The strains of probiotics that we use are more stable than other types of probiotics and thus, they can withstand some exposure to heat. Methylcobalamin, the active form of vitamin B12 used in our Nooch, is more sensitive to heat compared to the synthetic form used in other nutritional yeasts. To fully maintain the integrity of these gut health-supporting nutrients, you can use Nooch as a finishing ingredient rather than cooking it in the oven or saucepan.
Is Nooch fortified with nutrients?

Yes, our nutritional yeast is fortified with vitamin B12, prebiotics and probiotics. Our Nooch is the only nutritional yeast flake that contains the active form of vitamin B12 (methylcobalamin), rather than the synthetic form (cyanocobalamin). The majority of the B vitamins found in Nooch are naturally-occurring from the culturing process of the deactivated yeast.
Is Nooch gluten-free? Does it contain allergens?

Nutritional yeast is vegan, gluten-free, soy-free, corn-free, dairy-free, nut-free and non-GMO. Our flavor blends are also made with real spices (and you can see all of the ingredients) not fake "natural" flavors.
Is Nooch third-party tested?

We take the quality of our supplements very seriously. Each batch of Nooch is third-party tested multiple times during the manufacturing process including the finished powder. These tests confirm three things: what's on the label is in the blend, the flakes are safe based on toxicology reports, and there are no contaminants or undeclared ingredients in the blend. We test our supplements in agreement with GMP (Good Manufacturing Practices) to ensure strength, identity, purity, and composition of our products.
How does the subscription work?

By signing up for the subscription, we'll send Nooch each month so you don't ever have to worry about running out. You can adjust delivery dates, change your frequency, skip orders or cancel your membership at anytime in your account or by emailing us at hello@livewholier.com. Your happiness is our guarantee!
What is the 30-day money-back guarantee?

We're confident our products will help you feel your best, or your money back. You have 30 days from when your full-sized product is delivered to try it and request a refund if you don't end up loving it. No questions asked! This guarantee applies whether you're a new customer making your first purchase or an existing customer trying out a new product.

This guarantee covers the full cost of the product, any applicable taxes, and the initial shipping cost (not including return shipping, if applicable). Learn More